Name:
Marcus of Macedon     
Alias:
Thanatos     
Age:
1720     
Visual Age:
30     
Gender:
Male     
Reiatsu Color:
Red     
Hollow Hole Location:
Heart     
Affiliation:
The Espada     
Rank:
Septima     
Aspect of Death:
Destruction     
--------------------Persona--------------------
Appearance:
[spoiler="Appearance"]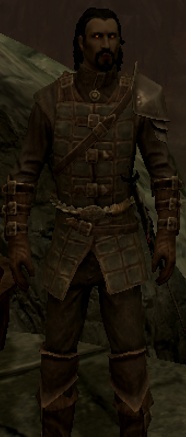 Thanatos wears a grey tunic with a high collar, long sleeves and one pauldron on the left shoulder, emblazoned with a grey circle and a red dot in the center. A similar-colored leather chest piece is placed over the tunic with metal knee guards that cover the tops of his leather boots that have three straps each on their outsides. His gauntlets are of the same material as his boots, with a hard-leather guard on the bottom of them and three straps securing it to the forearm. On his waist is a chain belt and a leather belt that hangs from his right hip and goes down the lower section of his armor to below his left, where his Zanpakuto hangs from, although it has been seen strapped to his back at times. His mask fragment lies just to the left of his left eye, covering the upper-half of his cheek. His Espada number is located on the back of his left hand.
He has pale dark-white skin that has encouraged some to call him a vampire, especially considering how his burnt-orange eyes glow in the dark. That the orange orbs are surrounded by a black sclera only makes it more disturbing. Thanatos also possesses coal-black hair that is combed over and just long enough in the back to cover his neck and a black beard that is well-groomed. His ears are a little on the small side, but not overtly so. Over the course of his Hollow existence, Thanatos has managed to develop a six-pack although it is hidden by his clothes and armor. His arms likewise are well-muscled but not to the point of bulging. On his chest hidden beneath it all, is a thin scar that runs from his left shoulder to his right hip, that he received fighting a Shinigami 2 centuries previous.     
Personality:
After going from Adjuchas to Arrancar, the one formerly known as Marcus of Macedon discovered his enjoyment of quiet, but not quite as much as his joy in the cries of despair as lives are destroyed or buildings burned or landscapes laid to waste. Always one with his inner fire, he lets nothing keep him down for long, having long ago likened himself to the legendary Greek fire that would burn even in water. Thanatos has never been one for peaceful emotions, preferring to cloak himself in rage and irritation, never caring about the feelings of others. He often visits the World of the Living just to see Humans wage war amongst each other, having somewhat suppressed his desire for destruction, and allow it to progress without interference by himself. He tolerates no one to invade his quiet time, having killed several Arrancar who dared to happen upon him unannounced and without good reason to do so. Thanatos has a low tolerance for weakness, and will openly threaten others if they remain in such a state overlong.
--------------------History--------------------
History:
Human Life:
Becoming More and Less:
Masked Existence:
Next Evolution:
Going Further:
Hollow Swordsman:
Recent Events:
(A/N: My apologies for the information overload, I just have a hard time stopping when I get an idea and like to be as thorough as I can be)




_____________________________________________________________________________________________


Vangran's Alternate Account