General information
--------------------------------------------------
Name:
Segador (Trans: Reaper)
Representation:
Resolution
Family:
Fire/Shadow
Sealed State
--------------------------------------------------
Appearance: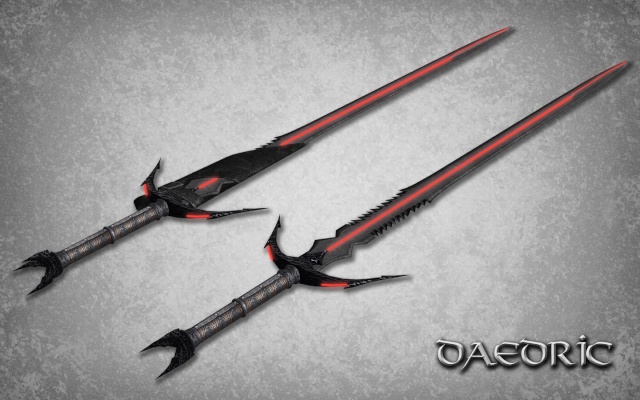 A red and black longsword of questionable origins that has a serrated edge in the area just above the guard. The guard takes the form of a crescent. The pommel has four spikes that protrude from it, and the space going from the tip of one spike to another resembles that of a 'V'. 
Type:
Longsword
Resurreccion
--------------------------------------------------
Release Phrase:
 Cosechar Sus Almas, Segador (Trans: Harvest Their Souls, Reaper)
Appearance:
When he whispers the release phrase, Thanatos' body reverts back to its Adjuchas form. His body becomes that of a skeleton, a black cloak composed of Reiatsu wrapped around it covers most of the bones from view, leaving only the hands visible and if the cowl is down the head. Beneath the cloak a pure-black shihakusho is obscures the skeleton from shoulders down to his feet, a mockery of the Shinigami uniform. Flames cover the entire length of the skeleton, with small fires acting as connecting joints between bones. The eye-sockets are filled with it as well as the cheek cavities, making for a more hellish appearance. A body of fire rests inside the chest cavity that, while not damaging to Thanatos, is deadly if it comes into contact with others, making it a deadly defensive technique, even if it relies entirely on the opponent penetrating the chest. The location of his Hollow hole changes as well, moving from over his heart to the base of his throat,
Segador is one of the more unique Resurreccion out there, as instead of simply changing form, it gives him a weapon as well. The weapon for this in particular release is a scythe that appears in his hands, similar to that of the stories of the Grim Reaper (he was seen traversing the Living World in his advanced Hollow form in the Middle Ages by a spiritually aware individual cutting through a soul with his non-flaming blade [he had been a bit low on energy at the moment] and the rest, as they say, is history), with a crooked shaft with one nob at the butt and a second near the middle. The blade is curved, also like that of a stereotypical scythe, however running along the top of the blade from tip to wear it connects to the shaft is a stream of fire that burns at 150 degrees Fahrenheit. The wood is composed of reiatsu and thus able to withstand repeated hits from a blade.
Ability:
Segador grants Thanatos the power to manipulate fire, and shadows to a lesser degree. The fire that burns inside him emits heat at 400 degrees Fahrenheit, although any he deems an ally will find it bearable, it is still inadvisable to touch it as Thanatos has no issue with watching either friend nor enemy burn because of them. His powers over shadow are far less refined, and limited to things such as creating weapons out of it. The one shadow ability that Thanatos has put any real effort into is the ability to make spikes out of shadows, although the presence of shadows is necessary for any shadow ability to work.
Techs:
Name:
Enlace (Trans: Connection)
Description:
Whenever a bone has been removed, all that is required to reattach it is a small fire at the end of wherever it came from and to touch the bone to the flame. The only drawback to this ability is that the bone is much easier to sever for the post following as the flame has to strengthen. Easier meaning that level 25 Kido or equivalent would be able to disrupt the process.
Preparation Time:
1 Post for flames to grow stronger upon reattachment.
Duration:
Passive
Cooldown:
 2 Posts
Name:
 Pico Sombra (Shadow Spike)
Description:
 The first form of three, this allows Thanatos to create a spike within the folds of cloak by utilizing the shadows present in his sleeves and either attack or defend with it. Its defensive qualities only function against a weapon and can withstand up to an Expert-level attack strike twice before disintegrating, and Average-level Kido from 1-40. Likewise it would vanish upon contact with a higher level Kido.
Preparation Time:
 1 post
Duration:
 1 Post
Cooldown:
 1 Post
Name:
 Picos Sombra 
Description:
The second form of Pico Sombra, by concentrating his power into the shadows around his opponent's feet, Thanatos creates 4 spikes which are a foot thick. The shadows will stretch out in four directions, resembling that of a square, as it were, with one spike in each corner around the enemy 8 feet apart, and come at them diagonally.   
Preparation Time:
 1 Post
Duration:
 0 Posts
Cooldown:
 2 Posts
Name:
 Múltiples Picos Sombra
Description:
 A final form of Pico Sombra, it produces double the amount of spikes that its second form does. As four shadows branched off for Picos Sombra, 8 shadows branch off for Múltiples Picos Sombra. And, as the previous version covered the four corners, this does the same as well as placing one spike in the space between each corner, making three from each side. And since there are more spikes, the distance between them is decreased by half, so each spike is 4 feet away from each other. (A/N: This still equals out to 8 spikes, as you can make a square with 8 points: 1 for each corner, and then one for each space between the corners. So when looking at any one side in particular, you will see 3 spikes.) 
Preparation Time:
 2 Posts
Duration:
 0 Posts
Cooldown:
 4 Posts
Name:
 Cero Incendio
Description:
 Using this ability, Thanatos is able to generate his red cero imbued with the fire from his body at the end of his scythe, where, upon twisting the scythe around and pointing the blade backwards over his shoulder, brings it down, whereupon the cero travels along the edge of the blade to the shaft and is then released.
Preparation Time:
 1 post
Duration:
 1 Post
Cooldown:
 1 Post
Name:
 Alto Horno (Trans: Blast Furnace)
Description:
 One of Thanatos' more powerful techniques, he takes the fire inside his belly and, after his bones have become sufficiently cloaked in it, expand outward bypassing his cloak, creating a veritable sea of flames with a heat of 250 degrees Fahrenheit. The field is 30 feet in size. The fire is largely composed of Reiatsu, and so if one has an Expert/Master skill level of Reiatsu they would be able to walk through it with only mild burns, but as the Reiatsu levels goes down, so to does the damage go up. Enemies defeated by this technique are immune to Incomplete and Complete Gonzui, as bodies left within will be reduced to ash.


Reiatsu Level: Expert/Master- Mild burns are inflicted that, while not debilitating, cause discomfort and pain. Only becomes irritable in its last post.

Reiatsu Level: Average- Greater burning is inflicted, and, while they aren't capable of stopping movement, makes it harder to grip objects, whether that be a weapon or a door handle as the burned muscles will flash pain through. Only an Average or greater skill in Hakudo can push through the pain with relative ease. Beginner level Hakudo would find it hard, but if they focus hard enough they can manage, if barely, but they more vulnerable due to stiff muscles. Their HSM speed is reduced by 1 skill level. Weapon Skill also decreases by 1 level. The burns make movement increasingly difficult throughout the 3 posts of duration, with the 3rd post incurring greater penalties on speed with the a decrease of 2 HSM levels as opposed to the original 1, but leaves weapon skill unchanged. 

Reiatsu Level: Beginner- Burns spread across the body, from legs to chest to arms; the neck, shoulders, and head are free of burns. Movement of any kind requires extreme focus, and only an Expert or greater Hakudo skill can persevere, but they will be vastly slower. The HSM and Weapon skills are reduced by 2 skill levels. Hakudo is reduced by 2 levels also. The 3rd post causes any movement to be met with pain, and their HSM skill is reduced by 3 levels, whereby only one with Master HSM would be able to move with any degree of grace. They would, however, survive.

Reiatsu Level: Untrained- Heavy burning throughout the body that unless the technique is ended early or escape the range quickly enough will die during the 2nd post. HSM skill is reduced by 4 levels, so not even a Master HSM would be able to escape easily. Weapon Skill is reduced by 3 levels and Hakudo becomes useless for anything requiring movement of the body.

Preparation Time:
 2 Posts
Duration:
 3 Posts
Cooldown:
 8 Posts
Note:
While this ability is active, and until 6 of the 8 posts of cooldown have passed, Thanatos will be unable to use any abilities that utilize fire. Also, as the fire that he creates is made in part from his reiatsu, he is immune to its effects.
Note#2:
When the first 6 posts of cooldown are not yet finished, Thanatos' shadow abilities gain an additional effect: all shadow abilities will give off a freezing chill of 10 degrees Fahrenheit. This only occurs while in cooldown, not while Alto Horno is active. The reason for this is that nearly all the fire within Thanatos is expelled upon activation, leaving only the cold darkness behind.